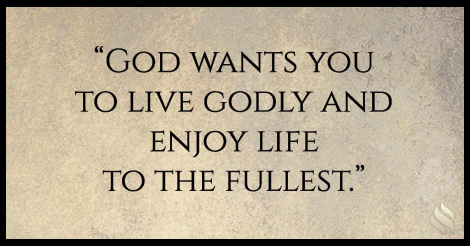 Religionists would have us believe that all our desires are wrong, that any aspect of pleasure is evil and unpleasing to God. The early church became infected with Greek philosophy among which asceticism was most prominent. This is a concept that says all matter of pleasure is evil. To please God and become spiritual we must deny ourselves. It is this lie that has kept hundreds of millions of people from ever seeking God and hundreds of millions more in guilt and condemnation over the centuries!
If God created us, then all of our natural desires are actually God given. They only become evil by our beliefs. If I believe they are evil I will feel condemned or ashamed and lose my confidence before God. If I do not believe there is a healthy, godly way to fulfill these desires, I will pursue a way that violates God's Word.
When I know that these desires are natural, and that the ultimate way to fulfill and enjoy them is within the bounds of God's Word, they cause my heart to overflow with praise and thanksgiving. In 1 Timothy 6:17, Paul said, Command those who are rich in this present age not to be haughty, nor to trust in uncertain riches but in the living God, who gives us richly all things to enjoy. God wants you to live godly and enjoy life to the fullest.
JOIN ME this week and discover how to use your desires to move you toward God instead of away from Him!
Join Our Mailing List!
Subscribe to our mailing list and you'll get notifications of new posts along with advanced notifications of sales, special offers, and subscriber-only discounts!
Welcome to the Impact Ministries family! Please check your email to confirm your subscription!