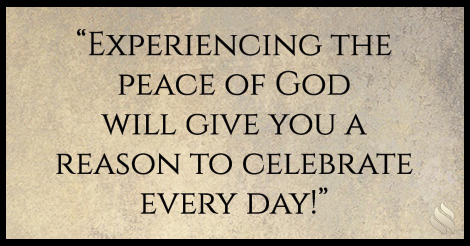 All the religions of the world were forced to bring sacrifices to their gods as a means to appease their wrath. The fear of these false gods brought man to the place where they actually sacrificed humans. The children of Israel, on the other hand, were sought out by God. God's children have never brought a sacrifice to move God to take action. They were children of faith; they brought sacrifices in response to the fact that God sought a relationship with them. They responded to His love and promises. The ultimate celebration of Israel was the peace offering. It was not required by God; it was a freewill offering wherein the worshippers celebrated the fact that he or she was able to live in a peaceful harmony with their Creator.
Today we tend to take for granted that God is a good God who initiated peace through the cross of Christ. JOIN ME this week to discover more about the celebration of peace between God and man. Experiencing the peace of God will give you a reason to celebrate every day!
Join Our Mailing List!
Subscribe to our mailing list and you'll get notifications of new posts along with advanced notifications of sales, special offers, and subscriber-only discounts!
Welcome to the Impact Ministries family! Please check your email to confirm your subscription!