"… This is the way, walk in it…" Isaiah 30:21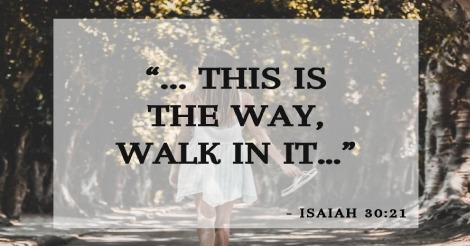 In Matthew 7:13, Jesus spoke of the narrow gate & how to enter the Kingdom realm – the Kingdom of God & the Kingdom of Heaven. "Enter by the narrow gate. For wide is the gate & broad is the way that leads to destruction, & there are many who go in by it."
When we misinterpret passages such as these to be just about salvation or what happens after we die, we inadvertently twist Jesus' teaching & miss His promise & protection. Hebrews explains that the reason the children of Israel couldn't enter that place of rest, & the same reason we don't enter into heaven on earth, is: unbelief. There's not another reason. They didn't trust God enough to follow His direction. The modern-day Christian doesn't experience heaven on earth because we don't trust Jesus enough to follow His direction & instruction.
The GOOD NEWS is that you can start this journey of trust into the Kingdom realm with the written Word of God as He taught, interpreted, & applied it, with the Holy Spirit leading you. You can break free from a lifetime of religious influence, find divine life in Jesus, & experience the quality of life He died & was raised from the dead to give you!
If you'd like to discover more truths behind Finding Divine Life, CLICK  HERE to watch this week's CyberChurch message "Entering the Narrow Gate."
Join Our Mailing List!
Subscribe to our mailing list and you'll get notifications of new posts along with advanced notifications of sales, special offers, and subscriber-only discounts!
Welcome to the Impact Ministries family! Please check your email to confirm your subscription!