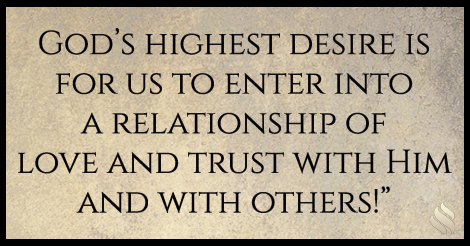 Since man is created in the likeness and image of God, we can understand much about God and His nature. Based on how we are made we know He is a social, emotional, relationship-oriented being. His deepest expression of Himself occurs through relationships where He is able to express love to those capable of receiving it, and they respond in like manner and pass it on to others! God's highest desire is for us to enter into a relationship of love and trust with Him and with others!
Believing God's account of creation brings an end to one of the most heinous, lying accusations against God! Luciferian doctrine says that God is in control of everything. Since He is in control He is obviously a wicked, harsh, corrupt God. The proof is all the horror that happens in the world.
Based on this false premise the question would be, "How could God be love and allow so many horrible things to happen?"  Various forms and degrees of this lying philosophy have permeated many aspects of Christian theology and those who believe it create the most corrupt, illogical, conflicting doctrines imaginable!
Since we are made in God's likeness and image, and since we have authority over Planet Earth, the condition of humanity is the result of our beliefs and choices. We have made civilization what it is today. The reality is: neither God nor the devil can do anything in Planet Earth apart from a human being that wills it, cooperates with it, or makes it happen!
JOIN ME this week and let's begin a discussion about the creation of man and all that reveals to us about the character and nature of God!
Join Our Mailing List!
Subscribe to our mailing list and you'll get notifications of new posts along with advanced notifications of sales, special offers, and subscriber-only discounts!
Welcome to the Impact Ministries family! Please check your email to confirm your subscription!