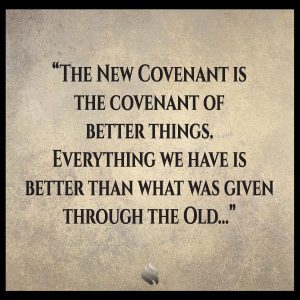 In the Old Testament the children of Israel saw manifestations of God's glory in the physical realm; this is what is called "signs and wonders." I'm sure there are numerous reasons God did it that way. One of the primary reasons may have been because they were not born again; they lacked the capacity to see God in their heart as revealed by the Holy Spirit.
We have a tendency to want to experience God through our five senses because we haven't developed our heart. We have developed the inner senses of the born again believer so we still look for God's glory in the physical world.
But what we fail to understand is that any experience that comes through the five senses only has the ability to strengthen the carnal/natural man. These experiences and their impact wear off with time, but those experiences of the heart strengthen our faith and make us immovable.
The New Covenant is the covenant of better things. Everything we have is better than what was given through the Old, yet, we still want the inferior manifestations of God's glory. We fail to open ourselves to how God manifests Himself today. Keep in mind, God didn't change; He simply offered us something better!
If you've found yourself wanting to see and know God through the physical world and you're ready for something better, CLICK HERE and let's discover the New Covenant truth about Manifesting the Glory of God!
Join Our Mailing List!
Subscribe to our mailing list and you'll get notifications of new posts along with advanced notifications of sales, special offers, and subscriber-only discounts!
Welcome to the Impact Ministries family! Please check your email to confirm your subscription!