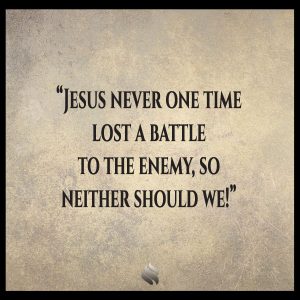 I often hear people quote that Scripture as if it means since I am in Jesus I know what He knows. The mind of Christ is His: mode of thought, inner sense and perception. He revealed His mind and the mind of God by everything He taught, His every action, His response to every situation as well as all He accomplished.
But we only have His mind when we use His life, teaching, death, burial and resurrection as the basis for our beliefs, actions and application. Since He always exercised authority over the devil I should always do the same. Since He never one time surrendered His identity to the accusations of those who hated Him, neither should I. I can see His mind through His life, I can live in that same mindset to the degree that I choose to think and function as He did.
Jesus never one time lost a battle to the enemy, so neither should we! JOIN ME this week and begin to establish your heart in the absolute truth as you put on the mind of Christ!
Join Our Mailing List!
Subscribe to our mailing list and you'll get notifications of new posts along with advanced notifications of sales, special offers, and subscriber-only discounts!
Welcome to the Impact Ministries family! Please check your email to confirm your subscription!