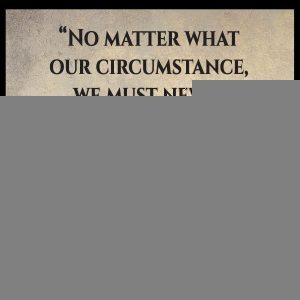 The Bible tells us that, above all things, we should guard our heart. All the limitations of our life emerge from our heart! The breastplate is the one piece of armor that guards one's heart! The breastplate is righteousness i.e. how life should be based on all that Jesus taught and provided through His death, burial and resurrection!
No matter what our circumstance, we must never lower or lessen what is promised because of what we are experiencing, or because of our lack of understanding! Too often, we lower our beliefs and expectations to match our life experience. Instead, we should hold strong to our faith and hope to raise our life experience to align with the promises!
The Bible says we receive the goal or expectations of our faith. When we lower our faith (trust in God's character to fulfill His word) we lower our expectations (hope); therefore, we limit what God can do in our life, which becomes a self-fulfilling prophecy!
The righteous of heart live in the paradox: fully capable of living in peace and contentment when things are not as they should be (righteous), but never giving up faith and hope, never settling for how things are instead of how things should be.
CLICK HERE to join me this week and discover this divine paradox as you learn to walk in The Path of Righteousness.
Join Our Mailing List!
Subscribe to our mailing list and you'll get notifications of new posts along with advanced notifications of sales, special offers, and subscriber-only discounts!
Welcome to the Impact Ministries family! Please check your email to confirm your subscription!