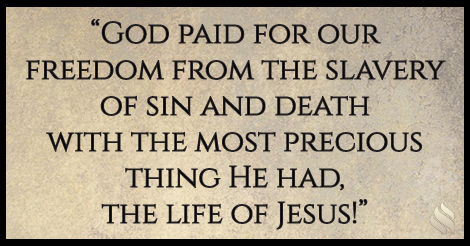 First and foremost, God is love. The essence of love is to give to another for their benefit! When we give to others we are expressing the value we have for them, therefore, our giving bonds us to others, even when it doesn't bond them to us! The greater the gift we give expresses the greater value we have for the recipient! Also, the greater the gift we give the more we bond to them; the greater investment causes us to have a greater desire to see them benefit. The Bible calls this reconciliation! It is a form of buying someone out of slavery. You pay what they are worth to purchase their freedom, you hope they will use that freedom to enter into a relationship with you, but love will never force or coerce.
Love expresses itself and those who have a heart for it respond with gratitude that can eventually grow into love. God paid for our freedom from the slavery of sin and death with the most precious thing He had, the life of Jesus! This act of giving expressed the value God had for man and created a bond of love. After paying such a price He is willing to wait for us as long as it takes.  JOIN ME this week and let's talk about the Father who is patiently waiting for you!
Join Our Mailing List!
Subscribe to our mailing list and you'll get notifications of new posts along with advanced notifications of sales, special offers, and subscriber-only discounts!
Welcome to the Impact Ministries family! Please check your email to confirm your subscription!