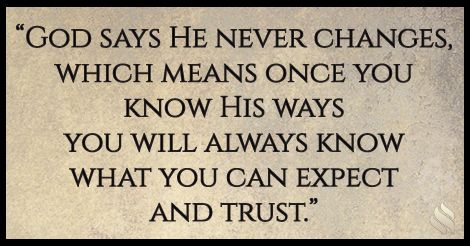 One of the greatest causes for confusion, corrupt doctrine, lack of faith and misinterpretation of Scripture comes from a failure to accept God's testimony of Himself. Isaiah said it this way, "Who has believed our report?" Even though there are ways to approach the Bible that make it incredibly simple to understand God, few ever really do! That's one reason Jesus came to show us in the flesh what God is like in the real world.
But to add to this confusion, "theologians" who struggle with their faith have created all kinds of ways to explain away that which could be simple and obvious. But at the end of the day, the two most common messages that corrupt our understanding of God is Dispensationalism and Sovereignty. Sovereignty says God is always changing because He can do what He wants. Dispensationalism implies that God changes over time. But God says He never changes, which means once you know His ways you will always know what you can expect and trust.
According to the Hebrew language, what God said to Moses was probably more like this: I am what I am; I am who I am; I will be what I will be; I will be who I will be. As James said it, "Do not be deceived, my beloved brethren. Every good gift and every perfect gift is from above, and comes down from the Father of lights, with whom there is no variation or shadow of turning."
If God changes we never know when or if we can rely on Him. JOIN ME this week and bring a new stability to your faith as you discover some of the most powerful ways to persuade your heart of God's good, dependable and never-changing character!
Join Our Mailing List!
Subscribe to our mailing list and you'll get notifications of new posts along with advanced notifications of sales, special offers, and subscriber-only discounts!
Welcome to the Impact Ministries family! Please check your email to confirm your subscription!