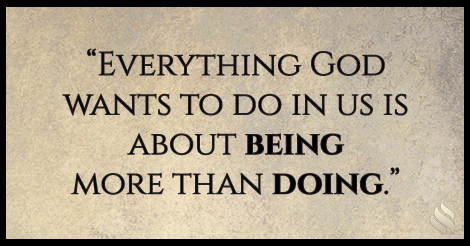 Everything God wants to do in us is about being more than doing. Doing is the fruit of what we believe and who we are. When we become or, more correctly, put on our new man everything else is pretty much effortless. When we do the "right" thing without being the right person our motives and intentions can still make that which is good become destructive.
The Hebrew word for "life" as well as Jesus' teaching about experiencing the "life of God" indicate that we can come to Him and experience life in a way that transforms us. When we experience God's life we then understand what we could not see and we then effortlessly do that with which we previously struggled to do.
When we pursue being who God has called us to be, we're not merely accomplishing goals. For example, if we want to find the perfect mate we become the person who would attract what we're looking for.  When we want a particular job we become the person who can succeed at that job. Superficial "faith" seeks to simply get things without being the person that can live at the level of responsibility needed to sustain what we have obtained.
JOIN ME this week as I share about being the person who can live your dreams by partaking of the Tree of Life.
Join Our Mailing List!
Subscribe to our mailing list and you'll get notifications of new posts along with advanced notifications of sales, special offers, and subscriber-only discounts!
Welcome to the Impact Ministries family! Please check your email to confirm your subscription!