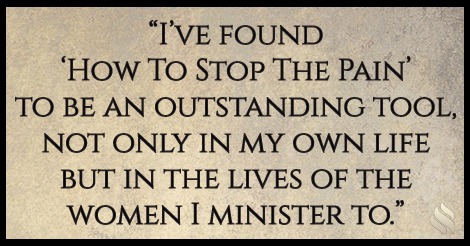 I've found "How To Stop The Pain" to be an outstanding tool, not only in my own life but in the lives of the women I minister to. Since reading this book and applying the scriptural principles, I've had remarkable success at improving my personal communication, especially with my husband. I was shocked when I realized how often I judged his motives, and upon asking him "why", I found that I was completely off base in my assessment…. What a blessing!
I found myself recommending "How To Stop The Pain" so often to the women at our church that I finally ordered 20 copies and set up a Bible study group. The women cannot stop talking about how the main principles of this book are helping them: don't judge motives, apply forgiveness, and allow others to have the information they need to repent when they offend you… just for starters.
Please take the time to read this book… search out the Scriptures that are referenced… apply those Scriptures. You'll have peace in your life.
If you'd like to learn more about HOW TO STOP THE PAIN in your own life, join us for our next Life Transformation Workshop called "How to Stop the Pain" by CLICKING HERE. 
Join Our Mailing List!
Subscribe to our mailing list and you'll get notifications of new posts along with advanced notifications of sales, special offers, and subscriber-only discounts!
Welcome to the Impact Ministries family! Please check your email to confirm your subscription!