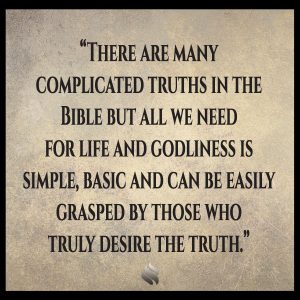 There are many complicated truths in the Bible but all we need for life and godliness is simple, basic and can be easily grasped by those who truly desire the truth. To avoid complication and confusion we must identify the absolute foundational truths of the identity of God as revealed by Jesus, the identity of Jesus as the resurrected Lord, and our new identity as a result of being in Him!
Once we believe these absolute truths we can never accept any interpretation or application of the Word or any concept of God or ourselves that are not in agreement. From this foundation we will understand the truth about everything we need to know. From these truths we will never magnify the devil above his true identity.
JOIN ME this week and discover how to live your life from the absolute truth of God's Word!
Join Our Mailing List!
Subscribe to our mailing list and you'll get notifications of new posts along with advanced notifications of sales, special offers, and subscriber-only discounts!
Welcome to the Impact Ministries family! Please check your email to confirm your subscription!