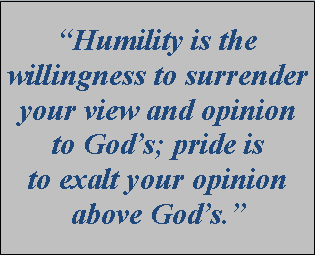 Humility is the willingness to surrender your view and opinion to God's. Pride is to exalt your opinion above God's. Pride always goes before a fall, but pride doesn't always look haughty. Sometimes pride is masked in false humility. The person who, in the guise of humility, refuses to accept and trust God's incredible love is actually filled with unbelief and pride. The carnal mind not renewed by God's Word always exalts its opinion above God's.
The two greatest lies perpetrated by religion are God's Word about Himself and man cannot be trusted. This brings us back to an essential question, "Whose report will you believe?" If we don't trust what God says about Himself and His relationship with man we'll never look at the sacrifice of Jesus and believe how valuable and loved we are. This religious lie began in the Garden of Eden when the serpent convinced Adam he was not really created in the likeness and image of God. Accepting this lie changed the way we see God and the way we perceive ourselves. After all, who are we if we are not created in God's likeness? Where will we look to understand our identity?
The deepest need a human has is to be loved. The word "love" means to value, hold in high regard and to consider precious. When man experiences unconditional love he has a deep sense of worth; thus, our self-worth is the result of believing the value God has for us.
CLICK HERE to join me this week and begin this journey into identity, self-image and self-worth as we explore The Life Matrix.
Join Our Mailing List!
Subscribe to our mailing list and you'll get notifications of new posts along with advanced notifications of sales, special offers, and subscriber-only discounts!
Welcome to the Impact Ministries family! Please check your email to confirm your subscription!