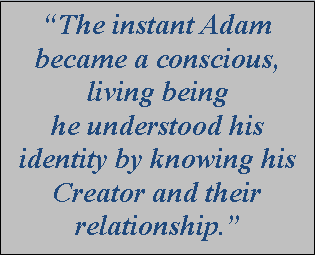 There are many important questions we want answered. Very often, the fact that we haven't answered the most basic questions makes it impossible to answer some of the others. We can't really build a sense of self-image, self-worth or healthy purpose until we answer the first question, "Who am I?"
The instant Adam became a conscious, living being he understood his identity by knowing his Creator and their relationship. He knew he was like God, he knew he was to rule earth and he knew he could trust God for the explanation of all reality. God didn't decide every aspect of Adam's life; He gave him a basic purpose and then told him to be fruitful and multiply. It's understood in the original language and concepts that man was to discover what made him fruitful and where he could multiply and make his own choices, always staying true to God's fundamental purpose. Adam never had confusion about his purpose until he lost his sense of identity. Since then, every human has struggled with the decision: "Will I trust God and His plan, or will I seek my own plan and purpose?"
We all have the same basic purpose in life: know and love God, love people and love ourselves as God loves us. If my identity is rooted in the fact that I am in Christ, I am a child of God, Jehovah is my Father and I am created in His likeness and image, I'll find myself enjoying a healthy relationship with God. It will be true to my nature to serve and bless others. Once you know your identity all other factors will line up. Then you can make your choice about how to be fruitful and multiply without abandoning God's basic call on your life. CLICK HERE to join me this week as we discuss the development of our Internal Hierarchy, which is the forerunner to discovering your life's purpose.
Join Our Mailing List!
Subscribe to our mailing list and you'll get notifications of new posts along with advanced notifications of sales, special offers, and subscriber-only discounts!
Welcome to the Impact Ministries family! Please check your email to confirm your subscription!