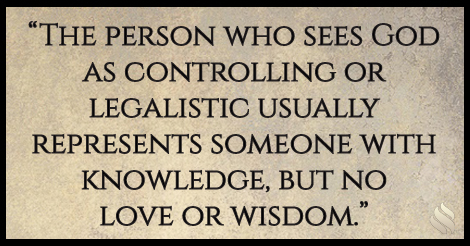 Every immature child feels as though his/her parents are trying to control their life and keep them from having fun. They're not allowed to lie in the street, drink Drano or eat sweets at all their meals. Jesus said, If you then, being evil, know how to give good gifts to your children, how much more will your Father who is in heaven give good things to those who ask Him? (Matthew 7:9-11) He compares Himself to a natural, loving, earthly father. It would be totally negligent and prove the absence of love for a father to fail to teach his children how to live effectively. In Proverbs He says He corrects us like the child He loves. Why? Because He wants the best for His children!
My children are grown now and when they talk about the things they learned as children they see them very differently. They are glad I had rules; they know I was trying to protect and equip them for a great life. The person who sees God as controlling or legalistic usually represents someone with knowledge, but no love or wisdom. JOIN ME this week as we talk about the Tree of the Knowledge of Good and Evil and discover the freedom in knowing God's Word from His perspective of love and wisdom!
Join Our Mailing List!
Subscribe to our mailing list and you'll get notifications of new posts along with advanced notifications of sales, special offers, and subscriber-only discounts!
Welcome to the Impact Ministries family! Please check your email to confirm your subscription!