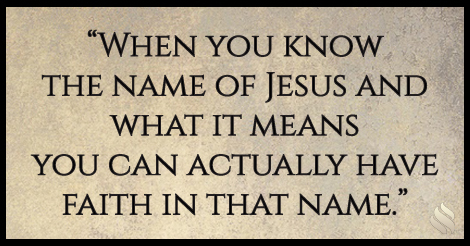 We've sung songs about it and shouted it to the rooftops but, the truth is, there's only power in the name of Jesus when it is spoken from a heart of faith! Anything else is just a formula! When the Bible records God's creation of the world it is all based on the sentence "and God said…" That Hebrew word for "said" is more about what was conceived in His heart. Empty words have no power. For decades we've been taught that speaking God's Word would produce miraculous results. Somehow people seem to leave out the part about faith in the heart!
When Peter and John performed the miracle on the cripple at the temple gate they were called into question about how they did this. This was their explanation, "And His name, through faith in His name, has made this man strong…" (Acts 3:16). Attempting to perform a miracle just by using Jesus' name without faith is an incantation. It's just like the Israelites who never entered into Canaan. The promise was made to them like it was to the entire nation of Israel, but the Word didn't profit them, not being mixed with faith, (Hebrews 3:19 & 4:2.)
When you know the name of Jesus and what it means you can actually have faith in that name. JOIN ME this week as we discover the name of Jesus and the power of that name.
Join Our Mailing List!
Subscribe to our mailing list and you'll get notifications of new posts along with advanced notifications of sales, special offers, and subscriber-only discounts!
Welcome to the Impact Ministries family! Please check your email to confirm your subscription!