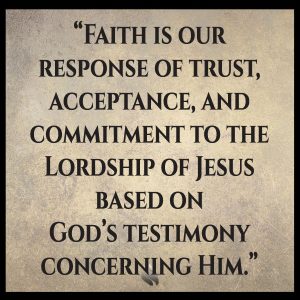 Sadly, as the early church became more Gentile in nature, it began to redefine terms and concepts to a more philosophical view and a less scriptural view. Plato replaced Moses! We lost the relevance of terms and concepts! Words like faith and believe had a much broader meaning to the early believer. Lifted out of context and proper interpretation they lost their original meaning.
Today we see belief as a purely intellectual concept. But in the context in which it was spoken, the word believe was a continuum that started in the heart and produced fruit through self-evident actions. When one's actions denied their verbal statement of belief it was obvious that they didn't really believe what they claimed. As Jesus said, you know a tree by its fruit!
Faith, which has been twisted into something we do to get God to respond to us, or what we do to get something from God, was originally more about trusting God based on the scriptural testimony He provided about Himself. In John 5:39, Jesus pointed out that the scriptures testified about Him: the Messiah. In 7:38, He uses the phrase, He who believes as the scripture has said… He is not asking us to develop our personal beliefs about Him and His identity. He is inviting us to see, hear, believe, and experience what the scriptures say about Him!
Faith is our response of trust, acceptance, and commitment to the Lordship of Jesus based on God's testimony concerning Him. The more our trust is based on God's portrayal of Jesus, through the Word, the more our personal experience is empowered by grace.
JOIN ME this week and begin this journey of removing the limits you may have placed on God. Experience more of God as you shift your belief in Jesus from an intellectual, subjective reasoning to a Biblically-based-faith!
Join Our Mailing List!
Subscribe to our mailing list and you'll get notifications of new posts along with advanced notifications of sales, special offers, and subscriber-only discounts!
Welcome to the Impact Ministries family! Please check your email to confirm your subscription!