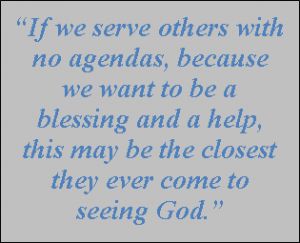 We are always ready and qualified to serve. There is always someone we can help. Any degree of victory in our life qualifies us to declare the goodness of God. Just learning to conversationally talk about the good things God is doing in your life does at least three things: it encourages those who hear, it actually encourages you and, maybe most powerful, it is a part of making you whole. It is the job of ministers to make us whole and equip us to serve. In this powerful series, Freedom from Emotional Debt, you will discover how serving others is part of your personal healing!
Keep in mind serving doesn't mean you are a leader. Serving means you will use your skill, talents and gifts to serve others, i.e. bring benefit to their life. Whether we serve the body of Christ or those in the world, they have the opportunity to see and experience God's love through us. If we serve others with no agendas because we want to be a blessing and a help, this may be the closest they ever come to seeing God. This week in Impact CyberChurch we will learn more about how serving others makes us whole through the love of God as we discuss The Prison of Perception.
Join Our Mailing List!
Subscribe to our mailing list and you'll get notifications of new posts along with advanced notifications of sales, special offers, and subscriber-only discounts!
Welcome to the Impact Ministries family! Please check your email to confirm your subscription!