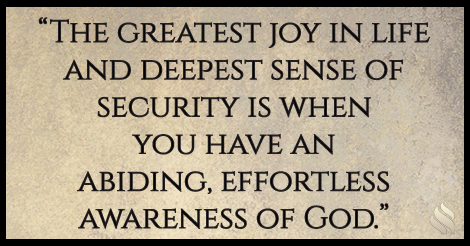 The Spirit of God came into your spirit when you were born again. The spirit aspect of man is an arena of which we have no direct consciousness. Our heart is the seat of feelings, emotions, love, relationship and identity, just to name a few. The Hebrew letter for heart is the same letter that represents a house.
Becoming consciously aware of Christ in you is something that happens in your heart. The best way to describe abiding together would be likened unto inviting someone into your home. It would be impossible for someone to be a guest in your home without your awareness. Like any good host, you would have conversations with them; you would spend time together; and you would probably include them in your activities.
Invite Jesus to come into your house, make Him feel welcome like any other guest. Become aware of His presence; involve Him in your life. What begins as effort to become aware will become a way of life. The greatest joy in life and deepest sense of security is when you have an abiding, effortless awareness of God. JOIN ME this week as I share the secrets of Abiding in the Presence of God. And if you want to develop a constant of awareness of Christ in you check this out www.moveyourboundaries.com
Join Our Mailing List!
Subscribe to our mailing list and you'll get notifications of new posts along with advanced notifications of sales, special offers, and subscriber-only discounts!
Welcome to the Impact Ministries family! Please check your email to confirm your subscription!