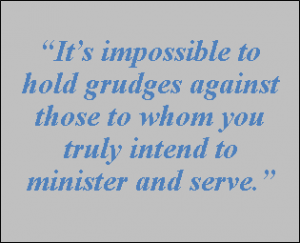 Jesus made an incredible statement: He who is forgiven much loves much. You can't know that you are forgiven much if you've never been honest with yourself about the depths of your sin. My sins were so flagrant and obvious I couldn't deny them. Maybe yours weren't!
The deep sense of forgiveness that I realized as a new believer flooded me with the love of God which resulted in love and mercy for others. Freedom from Emotional Debt isn't just getting free from the past; it's the freedom to move on into the kind of future you desire. It isn't really the depths of our past sin that should move us to mercy; it's the realization of the great love God showed us in Christ!
One of my first realizations about people and their behavior was this: I can't expect people who don't know Jesus as Lord to do anything other than sin. After all, until we're in Christ sin still has power over us. So, my passion became to win those who had hurt me to Jesus, then they would no longer be the cruel or violent person they were in the past. It's impossible to hold grudges against those to whom you truly intend to minister and serve.
This willingness to forgive and minister to people didn't mean I liked or trusted them. It just meant that I realized Jesus died for those people just like He did for me and they can have the life in Him that I have. In Impact CyberChurch, My Personal Story of Getting Whole gives pieces of how I was able to win those people to Jesus and so can you!
Join Our Mailing List!
Subscribe to our mailing list and you'll get notifications of new posts along with advanced notifications of sales, special offers, and subscriber-only discounts!
Welcome to the Impact Ministries family! Please check your email to confirm your subscription!