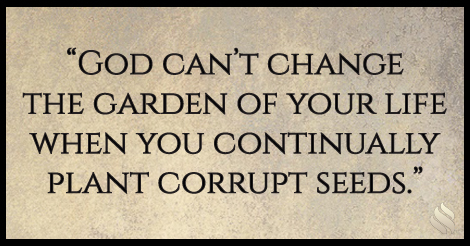 Sowing and reaping is part of the law of the seed. Everything in the physical universe, i.e. physical health, emotions, raising crops and our interaction with God's Word works around the law of the seed. Sowing and reaping is only one part of the law of the seed.
Sowing and reaping is a universal law, which means it requires no faith on our part or action on God's part for it to work. The first law of the seed is this: every seed bears after its own kind. In other words; if you plant corn seeds, you grow a crop of corn and if you plant wheat seeds, you grow a crop of wheat. This is the law of sowing and reaping.

God warns us about ignoring this universal laws. Whatever you sow into the world, into your relationships and into your own heart is the crop that will grow. Then Paul warns specifically about sowing to the flesh. While there are many aspects to "the flesh" the most basic is simply selfishness. Selfish people are rude and inconsiderate; they use people for their benefit and very seldom actually walk in love. Then they are surprised when the garden of their life is filled with broken relationships, rejection and loneliness.

This is when people start praying and asking God to change things for them. The truth is; God can't change the garden of your life when you continually plant corrupt seeds. JOIN ME this week and make the law of sowing and reaping start working for you instead of against you.
Join Our Mailing List!
Subscribe to our mailing list and you'll get notifications of new posts along with advanced notifications of sales, special offers, and subscriber-only discounts!
Welcome to the Impact Ministries family! Please check your email to confirm your subscription!